Evening Chai Ritual
From the froth to the last sip, the Dreamy Foamer and the caffeine-free Chai Oat Latte with Reishi are the perfect relaxation ritual after a long day.
Vital mushroom Reishi is considered soothing
Dreamy Foamer for creamy dreams
decaffeinated chai for peaceful nights
Climate neutral delivery in 2-3 working days
Free shipping from 35€ in Germany
Product details, nutritional values and allergens
Product info
Organic oat drink powder with chai spice blend and reishi.
Content: 300g.
Gluten and lactose free. Without added sugar. Without black tea (caffeine-free).
Made in Germany.
DE-ÖKO-003
Foamer: To give you that perfect extra froth.
Rechargeable handheld milk frother with 2 attachments and USB charging cable.
Shelf life
Chai Oat Latte: Shelf life approx. 1 year when opened - according to the best before date (dry storage and below 21 degrees).
Stirred Oat Drink: Up to five days (refrigerated).
Ingredients
89.4% Oats* (fermented), inulin*, cinnamon*, thickener: guar gum*, cardamom*, 0.4% reishi extract*, ginger*, pepper*, cloves*, star anise*, mace*.
*from controlled organic cultivation
Nutritional information
Data per 12 g powder / 100 ml oat drink
Calorific value 198 kJ / 47 kcal
Fat 0.7 g
of which saturated fatty acids 0.2 g
monounsaturated fatty acids 0,3 g
polyunsaturated fatty acids 0.3 g
Carbohydrates 9.7 g
of which sugar 2.4 g
Dietary fiber 0.9 g
Protein 0.7 g
Salt 0.03 g
Sodium 0,01 g
Allergens
May contain traces of milk and mustard. But don't worry, this still means that our product is and will always remain completely vegan. Here we explain everything.
Note
Since there are insufficient studies on the safety of the use of vital mushrooms during pregnancy and lactation, use during this period and consumption for infants is not recommended.
Material
Our packaging is made of monoplastic, which makes it 100% recyclable. Most importantly, it saves a lot of beverage cartons. We are always looking for new and better ways to reduce our environmental footprint. So if you have any suggestions, feel free to let us know!
For one serving of Oat Latte (200 ml), simply mix 2 heaping tablespoons (12 g each) of Oat Base with 200 ml of water. For more oat drink, simply mix a larger amount of base with the corresponding amount of water.
You can also prepare the Oat Lattes directly in the foamer: Simply fill with water, add the appropriate amount of base and the delicious creamy oat latte is ready. The Oat Lattes foam best when you use cold water with an electric frother.
In summer, your Oat Latte tastes but also cold on ice just great!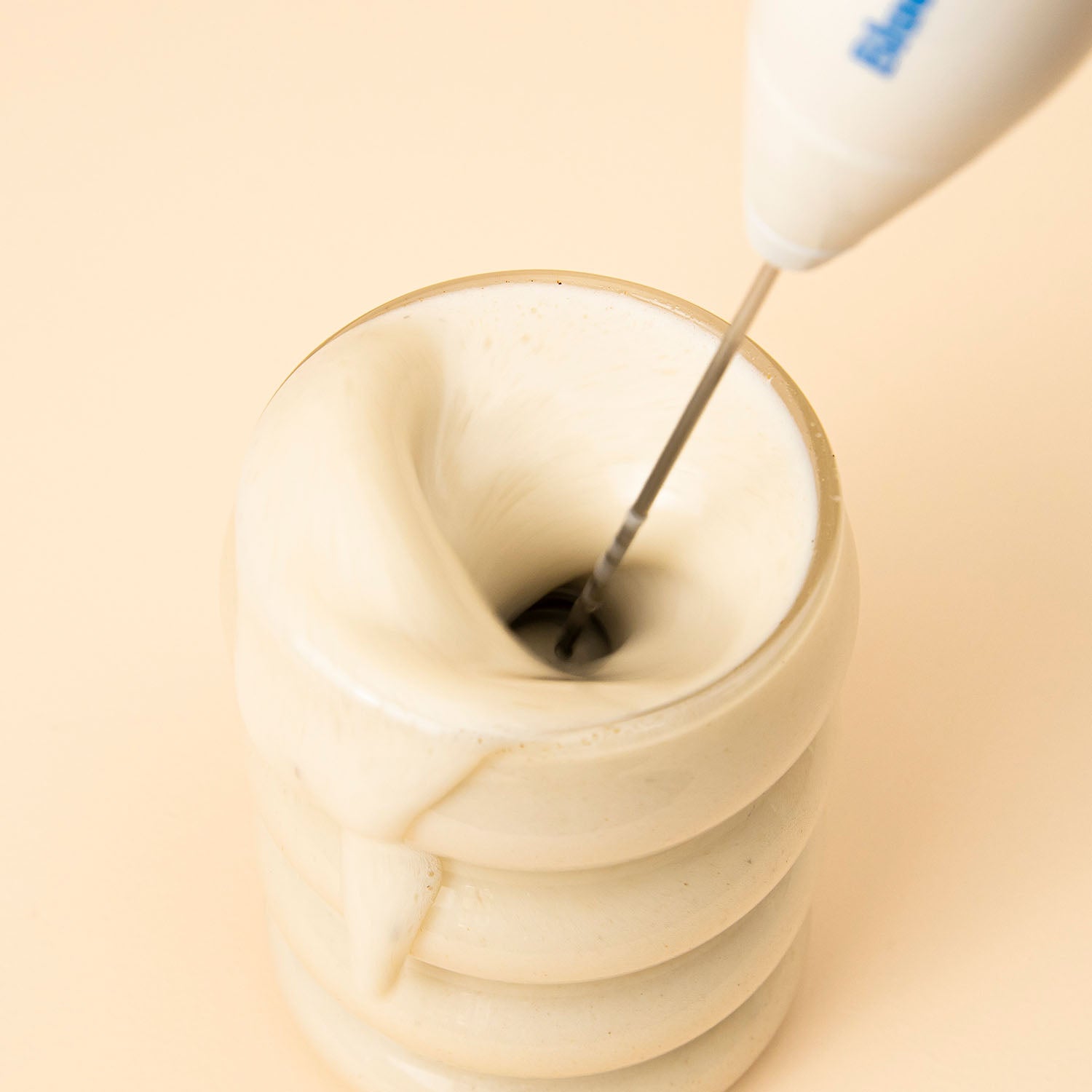 Tastes like:
"The heady chai spices and creamy, sweet oat base let you forget the busy day and calm down with each sip. With the Dreamy Foamer, the evening ritual lets you immerse yourself in creamy cloudscapes."
Your questions, our answers
How do I prepare the Chai Oat Latte?
Just like our Oat Bases, you simply add water to the Chai Oat Latte powder. You can stir, mix, or use your new foamer to create a delicious creamy latte with foamy tops.
Do I still need batteries for the frother?
The frother has a rechargeable battery and is rechargeable. Therefore, you do not need batteries for him at all. A USB charging cable is included with the frother.
Does the Chai Oat Latte contain sugar?
We do not add any extra sugar or other artificial additives to our Oat Latte. Due to the natural sweetness of the oats, they already have the perfect taste and can be enjoyed with a clear conscience.
Does the Chai Oat Latte foam up well?
Yes. For foaming with the hand foamer, it is best to use water at the desired drinking temperature and, if possible, do not allow the total temperature to exceed 50 °C.
What's special about Blue Farm Chai Latte?
Our Oat Lattes are 100% vegetable and enriched with selected superfoods or adaptogens (vital mushrooms). In Chinese medicine, the reishi contained in the chai is said to have a calming effect, for example.
Does the Chai Oat Latte also taste good cold?
Absolutely! You can drink the Chai Oat Latte either warm or cold. With the frother you can also easily froth it cold. Add a few ice cubes and you have the perfect refreshment in the summer!
What is the best way to clean the frother?
For cleaning, it is best to take the attachment out of the housing. Then you can simply rinse the attachment in some soapy water. Please be careful with the case and clean it with a damp cloth - since it contains electrical components, it does not get along so well with water.
What do I use which frother attachment for?
The circular, double-row attachment is your dream foam beater. It gives your drink a delicious, creamy froth. The wider attachment is great for mixing your drink well and can even be used as a mini whisk.
Get your kitchen dirty,
not the planet.
View all