Mushroom Bundle
Das Duo, nach dem dein Alltag gefragt hat: Ob Fokus-Matcha oder Chillout-Chai, die beiden All-In-One Lattes sind in nur 10 Sekunden mit Wasser frisch & cremig in deiner Tasse.
mit funktionellen Vitalpilzen angereichert
ohne Zuckerzusatz & künstlichen Zusätzen
100% vegetable, organic & gluten free
Climate neutral delivery in 5 - 7 working days
Free shipping from 35€ in Germany
Product details, nutritional values and allergens
Product Info
Organic Oat Drink Powder with Matcha and Lion's Mane. 300g.
Gluten and lactose free. Without added sugar.
Organic oat drink powder with chai spice blend and reishi. 300g.
Gluten and lactose free. Without added sugar. Without black tea (caffeine free).
Made in Germany. 
DE-ÖKO-005
Shelf life
LatteMixes: Shelf life approx. 12 months when opened - according to the best before date (dry storage and below 21 degrees).
Stirred Oat Drink: Up to five days (refrigerated).
Ingredients
Chai Oat Latte:
89.4% Oats* (fermented)., Inulin*, cinnamon*, thickener: guar gum*, cardamom*, 0.4% reishi extract*, ginger*, pepper*, cloves*, star anise*, mace*.
*From controlled organic cultivation
Matcha Oat Latte:
85.3% oats* (fermented), inulin*, 5% matcha*, thickener: guar gum*, 0.4% hericium extract*, tiger nut flour*.

*From controlled organic cultivation
Nutritional information
Chai Oat Latte:
Data per 12 g powder / 100 ml oat drink
Calorific value 198 kJ / 47 kcal
Fat 0.7 g
of which saturated fatty acids 0.2 g
monounsaturated fatty acids 0,3 g
polyunsaturated fatty acids 0.3 g
carbohydrates 9.7 g
of which sugar 2.4 g
fiber 0.9 g
protein 0.7 g
salt 0.03 g
sodium 0.01 g
Matcha Oat Latte:
Data per 12 g powder / 100 ml oat drink
Calorific value 190 kJ / 53 kcal
Fat 0.7 g
of which saturated fatty acids 0.2 g
monounsaturated fatty acids 0.3 g
polyunsaturated fatty acids 0.3 g
Carbohydrates 9.5 g
of which sugar 2.2 g
Dietaryfiber 1.0 g
Protein 0.7 g
Salt 0.03 g
Sodium 0,01 g
Allergens
May contain traces of milk and mustard. But don't worry, this still means that our product is and will always remain completely vegan. Here we explain everything.

Note
Since there are insufficient studies on the safety of the use of vital mushrooms during pregnancy and lactation, use during this period and consumption by infants is not recommended.
Material
Our packaging is made of monoplastic, which makes it 100% recyclable. Most importantly, it saves a lot of beverage cartons. We are always looking for new and better ways to reduce our environmental footprint. So if you have any suggestions, feel free to let us know!
For one serving of Oat Latte (200 ml), simply mix 2 heaping tablespoons (12 g each) of Oat Base with 200 ml of water. For more oat drink, simply mix a larger amount of base with the corresponding amount of water.
You can also prepare the Oat Lattes directly in the foamer: Simply fill with water, add the appropriate amount of base and the delicious creamy oat latte is ready. The Oat Lattes foam best when you use cold water with an electric frother.
In summer, your Oat Latte tastes but also cold on ice just great!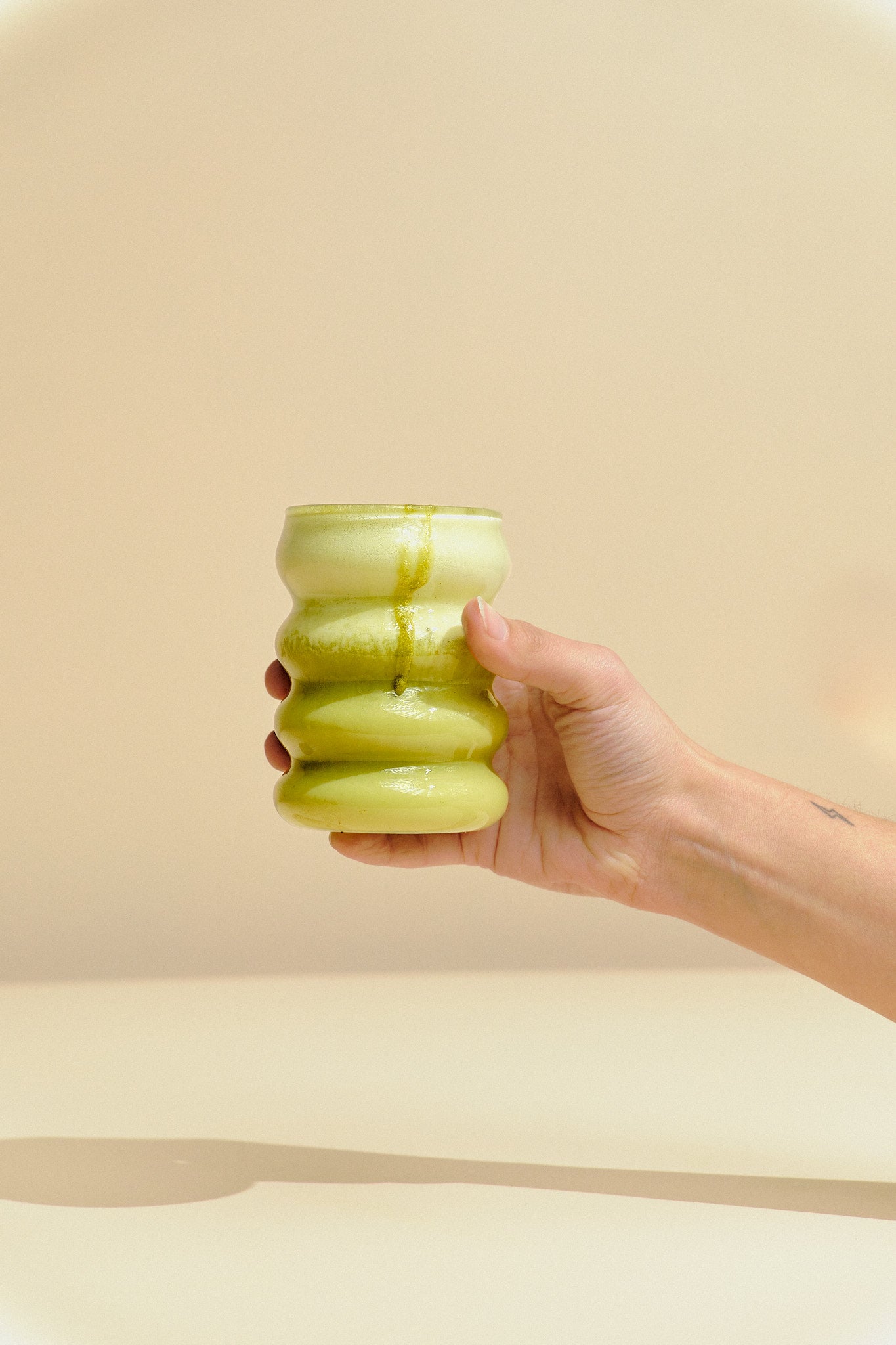 Wieso es Mush Love in die Tasse gibt:
High quality organic ingredients
Ob edler Bio-Matcha aus Japan, hochwertige Bio-Gewürze wie Zimt und Kardamom oder die cremige Bio-Haferbasis - die Qualität der Zutaten schmeckst du mit jedem Schluck.
Funktionelle Vitalpilze
Lion's Mane (im Matcha) und Reishi (im Chai) sind Vitalpilze, die natürliche & adaptogene Wirkstoffe haben und dadurch z.B. Fokus oder Ruhe unterstützen können. Hier gibt's mehr Info.
Natürlichkeit statt Aromen & Zucker
Wir verzichten in diesen Lattes bewusst auf Zucker und künstliche Zusatzstoffe. Das zu 100% natürliche Pulver wird einfach nur mit Wasser im Nu zum lecker, cremigen Lieblingslatte.
Your questions, our answers
How do I prepare the Oat Lattes?
Genau wie bei unseren Oat Bases gibst du einfach direkt warmes oder kaltes Wasser zu dem Mix dazu, schüttelst oder rührst und voilá - schon hast du deinen Lieblingslatte im Glas.
Do the Oat Lattes contain sugar?
Wir fügen bei den beiden Latte Mixes keinen Zucker hinzu - dank der natürlichen Süße des Hafers in unserer Oat Base schmecken sie natürlich süßlich und lecker. Außerdem werden ihnen auch keine anderen künstlichen Zusatzstoffe oder Aromen hinzugefügt.
What are adaptogens and why do they make our latte mixes special?
Viele traditionelle Heilpflanzen, Kräuter, Gewürze und Vitalpilze haben adaptogene Wirkstoffe. Es sind natürliche Wirkstoffe, die eine immunfördernde und vitalisierende Wirkung haben können. Lion's Mane und Reishi gehören z.B. dazu. Diese beiden findest du in unserem Matcha (Lion's Mane) und Chai Oat Latte (Reishi) wieder. Während Lion's Mane bei Fokus unterstützen soll, wird Reishi eine beruhigende Wirkung nachgesagt. Mehr zu den beiden kannst du hier nachlesen.
Can I also foam up the Oat Lattes?
Unsere Oat Lattes lassen sich besonders gut direkt im Schäumer aufschäumen. Nutze dazu am besten kaltes Wasser, sodass der Oat Latte beim Schäumen erhitzt wird. Du kannst ihnen aber auch mit einem elektrischen Handschäumer eine Schaumkrone verpassen.
Are the Oat Lattes gluten-free?
Die Oat Lattes sind glutenfrei gemäß der Verordnung (EG) Nr. 41/2009. Das bedeutet, dass der Glutengehalt unter den gesetzlich vorgegebenen <20 ppm liegt und ist damit als glutenfrei deklariert.
Enthält der Chai Oat Latte Schwarzen Tee?
Nein. Der Chai Oat Latte ist bewusst koffeinfrei und kann somit auch abends getrunken werden. Wenn du aber mal etwas Abwechslung magst, kannst du dir mit dem Hinzugeben eines Espresso Shots einen "Dirty Chai" zaubern.
Wie lange sind die Oat Lattes haltbar?
Sie sind in der Regel auch geöffnet mehrere Monate bis zu einem Jahr (entsprechend des MHD) haltbar.
Do the Oat Lattes also taste good cold?
Auf jeden Fall! Du kannst sie entweder warm oder kalt trinken.
Is the packaging recyclable?
The packaging is made of monoplastic and is therefore 100% recyclable. Our Oat Base is an enzymatically treated food, which requires packaging with a particularly high barrier property, thus ensuring the shelf life of the product.
Make your kitchen dirty, not the planet.
View all