My m!lkshake frees all the cows from the yard!
The joint campaign by PETA, Gut Aiderbichl and Blue Farm
Animal welfare plays an important role for many when consuming plant-based drinks. Of course, it's no different on our farm. On the occasion of our PETA Vegan Food Awards 2022, we are using our joint outreach to give as many cows as possible a wonderful home on the farms of Gut Aiderbichl.
Farm Facts about the campaign
Cow sponsorship at Gut Aiderbichl
For every 100 Oat Base Bio products sold, Blue Farm has adopted a cow for one year on the farms of Gut Aiderbichl, thanks to your help.
Three strong partners united
Together with PETA and Gut Aiderbichl, we want to use our reach to give as many cows as possible a sheltered home and a dignified life.
Every sip counts
Together with you, PETA and Gut Aiderbichl, we have managed to conclude 25 cow sponsorships by the end of November 2022.
Our godfather cows
Arabella
Sponsorship completed!
Arabella is one of 7 survivors after a major farm fire in 2014 that killed over 100 animals. After a long treatment, Arabella can live pain-free again and has recovered from the trauma over time.
Bärbelchen
Sponsorship completed!
Bärbelchen managed a spectacular escape before her "last ride". After a 2-kilometer run for her life, she ended up in a swimming pool, from which, however, she first returned to her home stable. Gut Aiderbichl heard about the failed escape and brought Bärbelchen to their estate.
Benny
Sponsorship completed!
Like many young calves that don't grow fast enough, Benny's life was to end a few weeks after birth. A young woman cared for the calf for months - until she became a mother herself and there was no more time. So Benny ended up at Gut Aiderbichl, where he enjoys a full, free life.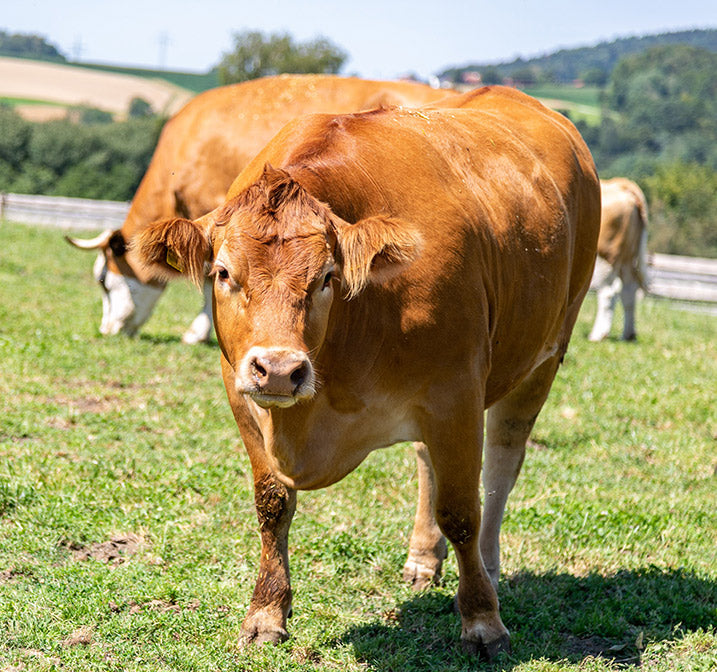 Büxi
Sponsorship completed!
Büxi escaped from her farm and was untraceable for 3 months - until her tracks betrayed her in the first snow. Gut Aiderbichl tracked down the cow and took her in. Here she enjoys her newfound animal company.
Egon
Sponsorship completed!
Egon is a true free swimmer: In 2013, during the flood of the century, the Passau district office decided that cattle on the verge of drowning should be given the coup de grace. Egon swam away for his life until land was in sight again and was brought from where he was found to Gut Aiderbichl.
Ferdinand
Sponsorship completed!
Ferdinand was born with 5 legs. The farmer took the initiative himself to find a worthy home for the little calf and turned to Gut Aiderbichl. Ferdinand was even allowed to bring his best friend Gustl with him to the sanctuary when it was discovered during pick-up that the two were inseparable.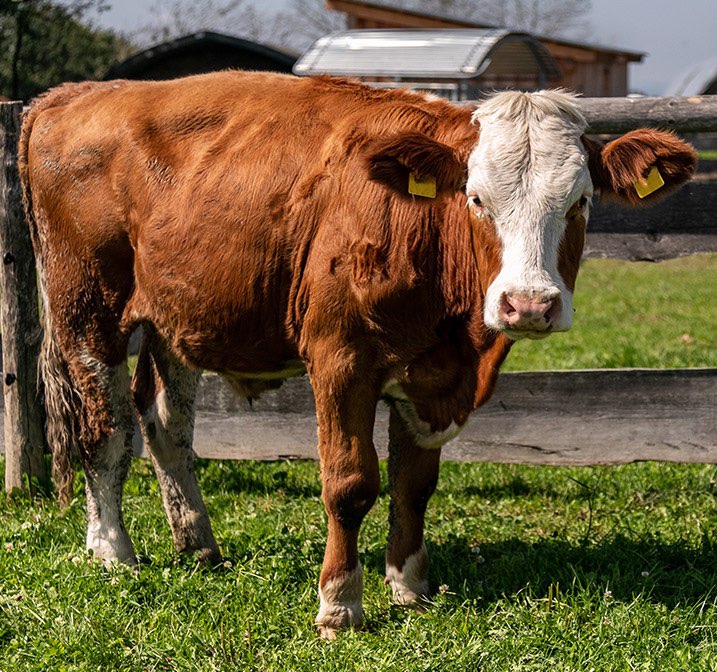 Karli
Sponsorship completed!
Karli is not only "too small", but also has a limp. A good soul discovered the calf and took care of him. The discoverer contacted Gut Aiderbichl and thus saved Karli from premature slaughter and enabled him to live a sociable, long life.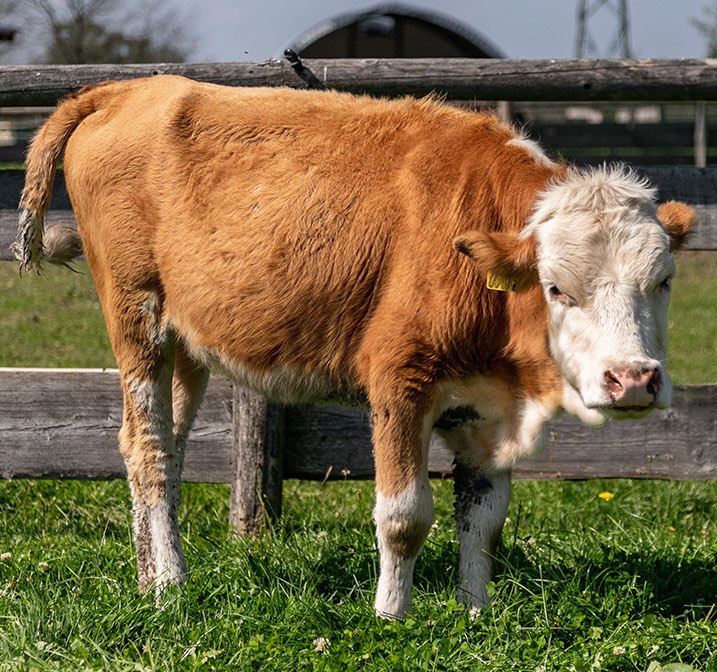 Kathi
Sponsorship completed!
Kathi is small in stature and therefore not suitable for livestock farming. Unlike many of her professional colleagues, Kathi's farmers deliberately decided against slaughtering her and turned directly to Gut Aiderbichl to give the cow a dignified life.
Lotti
Sponsorship completed!
Lotti is a find from the Aiderbichl "community". A long-time visitor discovered a nearby farm with obviously poor husbandry conditions. She took care of some calves on the spot and made sure that they found a home at Gut Aiderbichl when the calves were to be sold.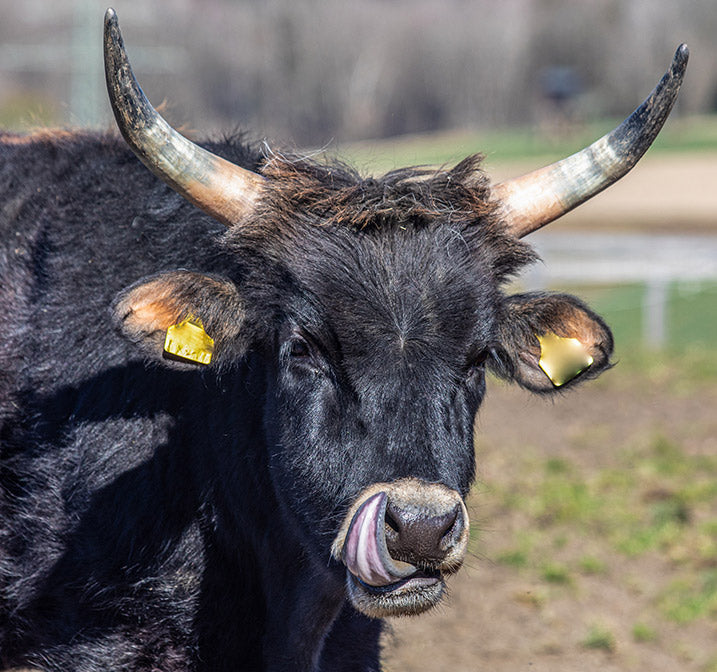 Oskar
Sponsorship completed!
Oskar owes his life to an animal-loving woman who was alerted to the fact that a motionless calf was lying within an unattended herd of cattle in the neighboring village. She contacted the farmer, who was temporarily out of town, and then took the calf home, where she nursed Oskar back to health.
Purzel
Sponsorship completed!
As a 6-week-old calf, Purzel fell out of the transporter after being sold to the fattening farm. The drivers of the following car stopped and took care of the frightened animal on the spot. When the transporter returned, the rescuers did not release the calf and Gut Aiderbichl was finally able to buy Purzel from the fattening farm.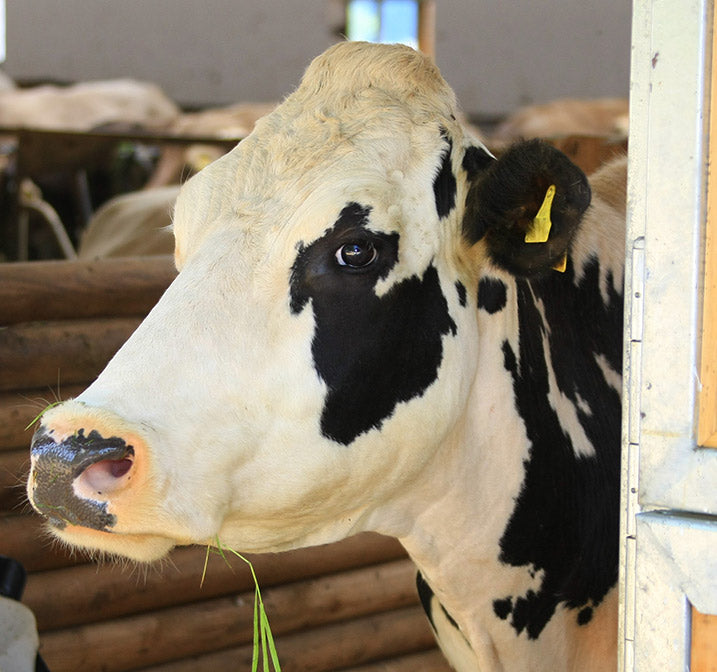 Resi
Sponsorship completed!
Resi represents the fate of many high-performance dairy cows. Often they are so exhausted after 6 to 7 years that they can no longer become pregnant and thus their milk dries up. As a rule, these cows end up on the slaughter bench. Resi was lucky to be found and rescued by Gut Aiderbichl.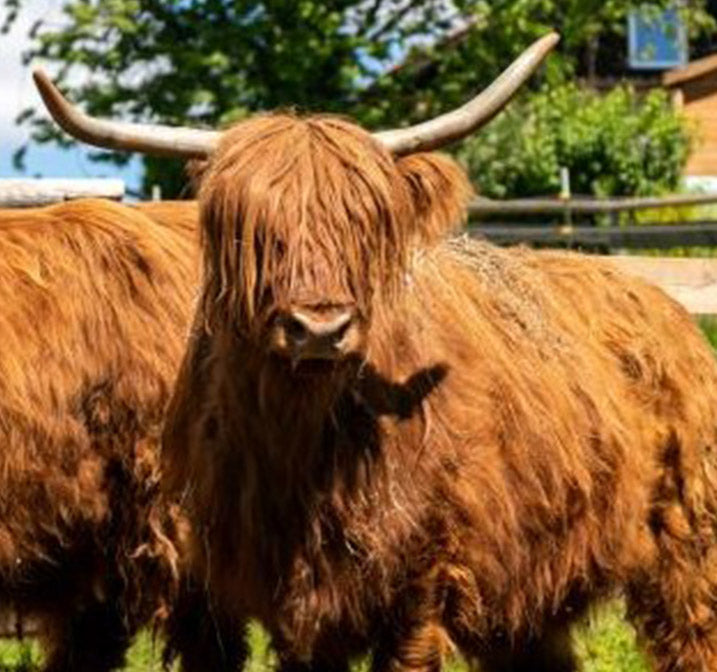 Sandra
Sponsorship completed!
Sandra comes from a farm that you would not wish on any animal. Her calf, because of which the owner originally contacted the estate, was emaciated with wounds in which maggots had already taken up residence. Gut Aiderbichl could no longer save the calf, but at least took Sandra in.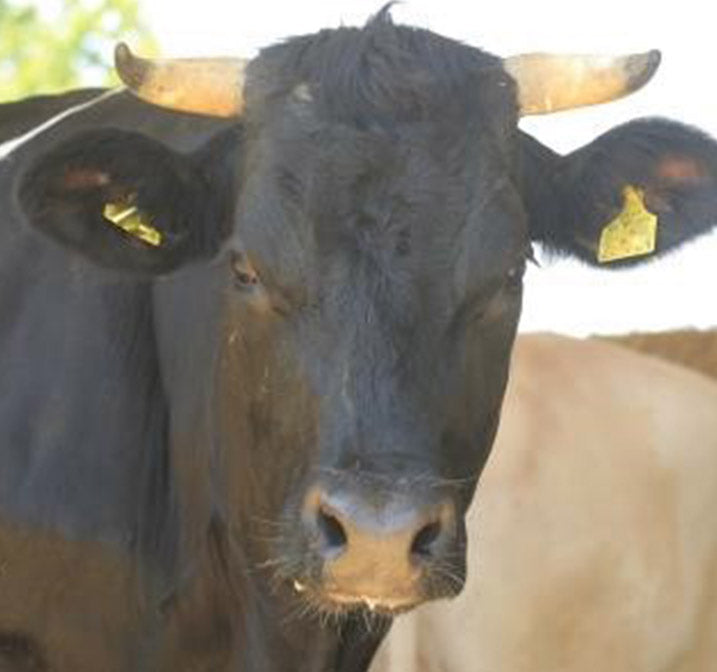 Sarotti
Sponsorship completed!
Sarotti is a leftover from the local flood of the century in Deggendorf in 2013. Many animals were temporarily housed at Gut Aiderbichl there at the time, when farms had to be evacuated. The farmer's wife, to whom Sarotti belonged, ended up asking the estate if her animals - and she - could stay there.
Stefan
Sponsorship completed!
Stefan barely survived a major fire at a cattle farm in 2017. Seriously injured, he was cared for by a neighbor and a veterinarian. When he was feeling better, he was brought to Gut Aiderbichl for a long-term stay. Even today, his wounds have to be tended to on a daily basis.
Vronal
Sponsorship completed!
Vronal was already destined for slaughter due to her small stature as a calf. However, she caught the eye of a woman who spotted the calf among the others and contacted Gut Aiderbichl when she heard of its impending fate.
Volga
Sponsorship completed!
Like Resi, Volga was a high-performance dairy cow. She was so emaciated that she could no longer become pregnant and thus gave no more milk. Like her fellow sufferers, she was thus destined for slaughter, but could be saved by the estate.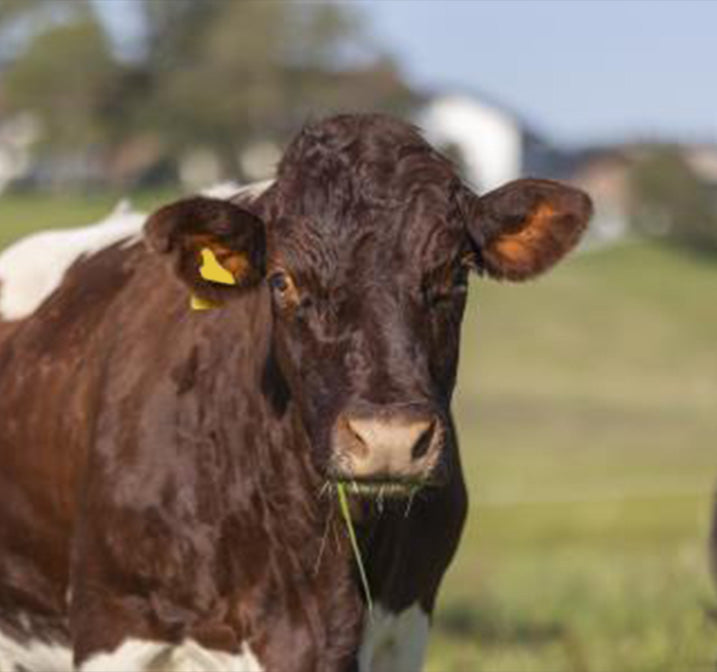 Luck
Sponsorship completed!
Since Glück had not become pregnant for years, she was to be slaughtered. What no one knew was that the cow carried a secret. On the morning of the planned slaughter, she gave birth to calf Rosa. The two were now allowed to move in at Gut Aiderbichl.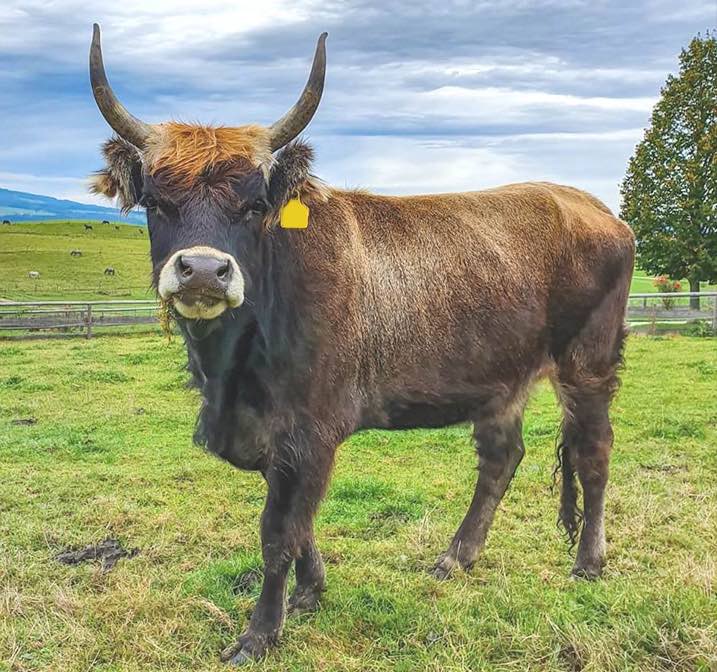 Leona
Sponsorship completed!
The aurochs calf Leona was rescued by Gut Aiderbichl at the last minute in 2015, together with 16 other cattle, and placed in their protection. Without the quick intervention, the animals, including small calves and highly pregnant cows, would have been slaughtered.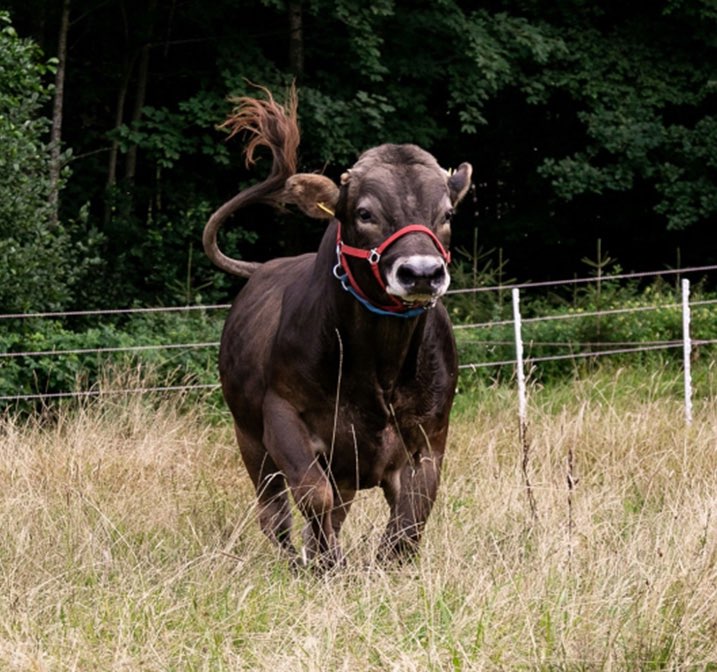 Peter Günther
Sponsorship completed!
Peter Günther is a 5-year-old lovable brown cattle breeding bull and was supposed to end up at the slaughterhouse. However, the owners had grown so fond of the bull that they looked for a suitable place, which he found at Gut Aiderbichl.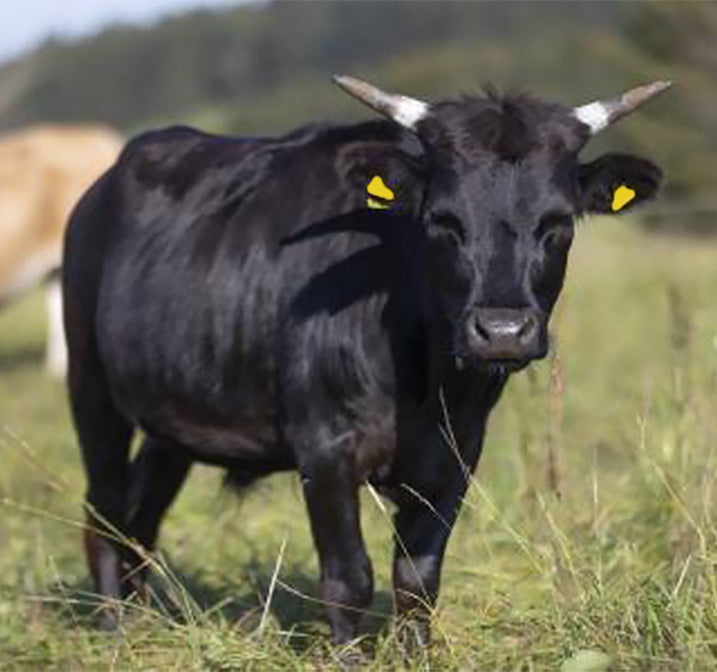 Primo
Sponsorship completed!
Primo came with two friends from Switzerland. Dahomey cattle represent a very special breed, as they are the smallest cattle in the world. All three cattle found a home at Gut Aiderbichl.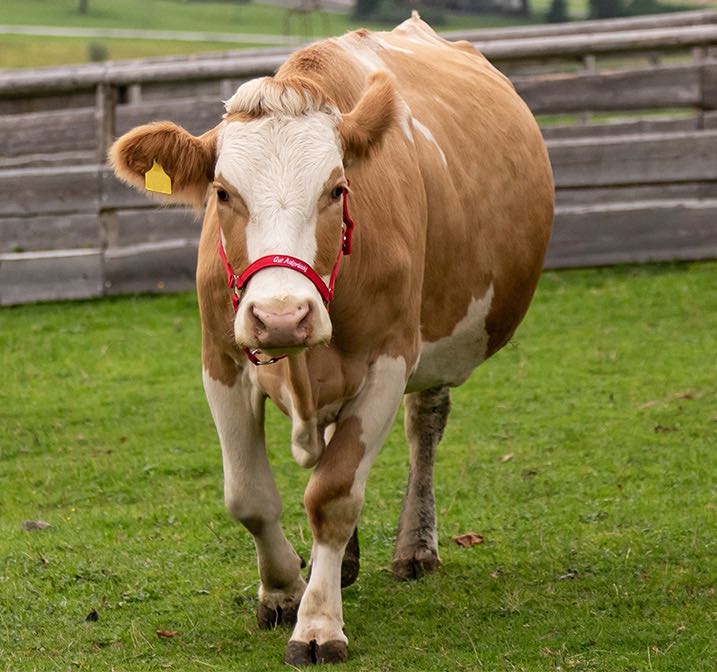 Ruby
Sponsorship completed!
Ruby gave birth to quadruplets in April 2021. Since they are small in stature, they were not suitable for breeding. Since quadruplets are extremely rare and they love attention and cuddles, they urgently needed a new home. Gut Aiderbichl took in mother Ruby and her quadruplets.
Sammy
Sponsorship completed!
Sammy, the gentle giant, was born 12 years ago on a farm in Austria and raised there with the bottle. Thus, despite the not so easy start, he grew up to a handsome breeding bull. After many years of work, his owners had to part with him. They had promised that he would never have to go to the slaughterhouse. Now Sammy is spending his retirement as a breeding bull at Gut Aiderbichl.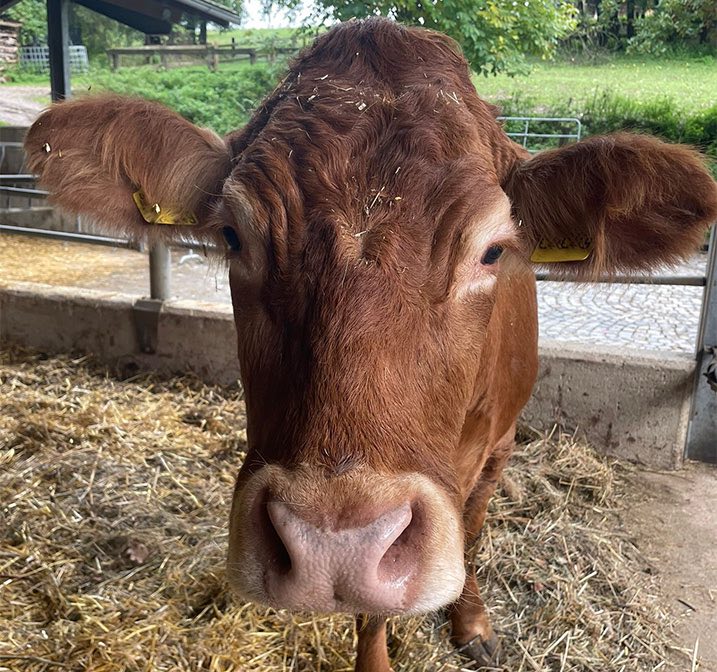 Nora
Sponsorship completed!
In the neighborhood of a veterinarian, an elderly mare and a Limousin cow were kept in a pasture. The two broke out frequently and even ran around on the street at night. This went too far. While the horse quickly found a home, Nora's rescuer had to search a long time for a safe place. Nora now lives happily at Gut Aiderbichl's Moosfeldhof.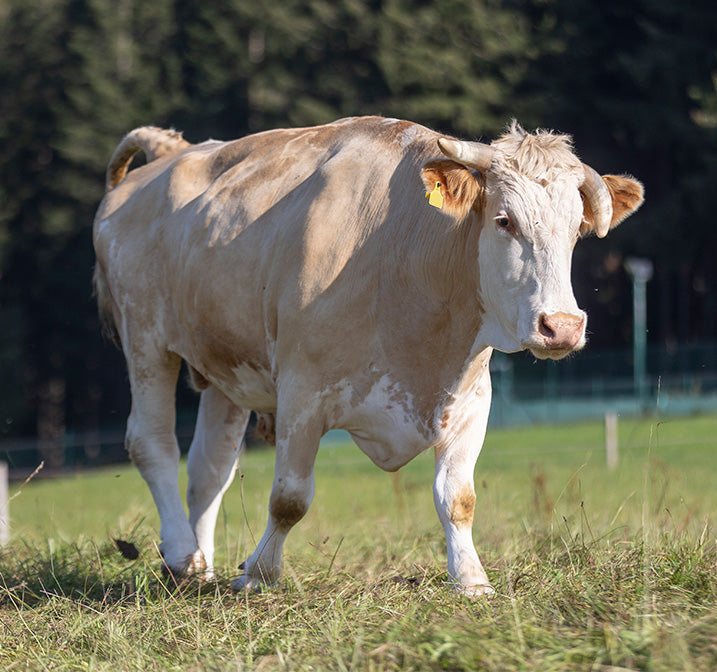 Bandit
Sponsorship completed!
Gut Aiderbichl's employee Christian was in a farmer's barn because of other cattle. As he walked past the bull Bandit, the bull drew attention to itself, despite its 40 cm chain. He went down on his knees. Christian perceived this gesture as a request to free him, and when he later loosened the chains, Bandit jumped around the stable in sheer joy and nestled his forehead against Christian's head. Thus the two remained for a long time - so much for the aggression of bulls.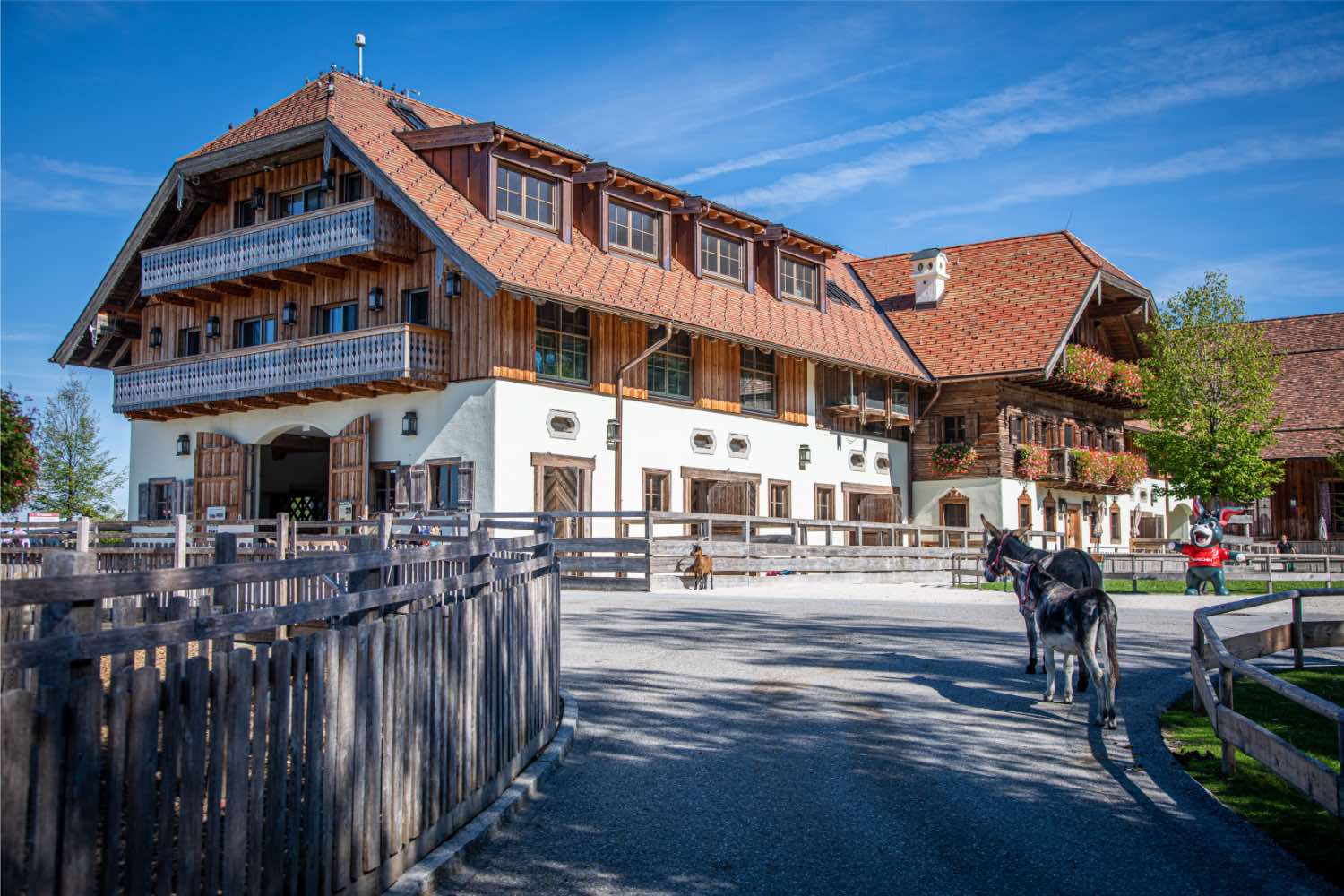 What actually is a home farm?
A home farm, or animal shelter, is a facility where various domestic, wild and farm animals find a home. The aim of the facilities is to allow the animals to live as species-appropriate, free and safe as possible.
Learn more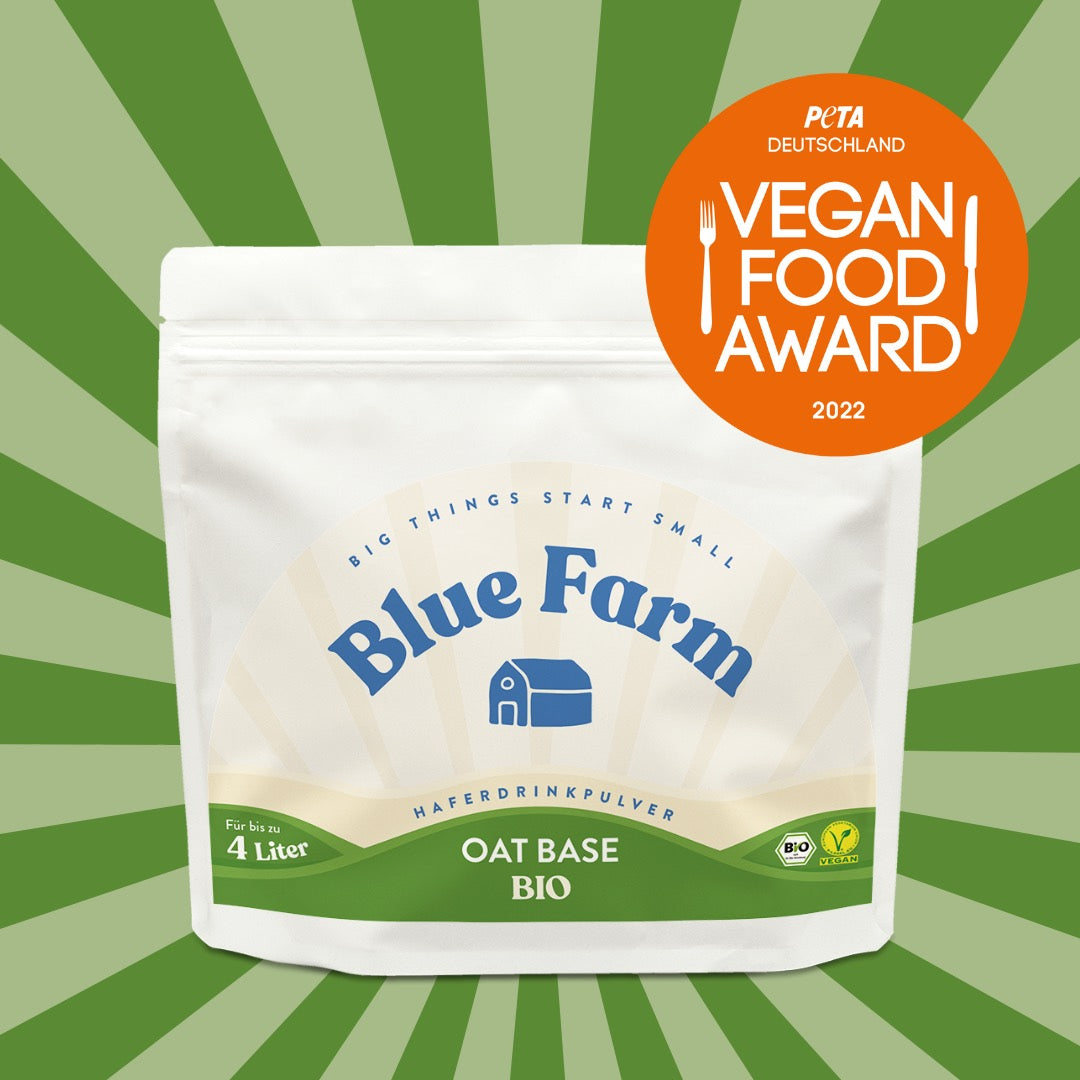 PETA Vegan Food Award 2022
This year, the animal rights organization PETA awarded our Oat Base Bio with the PETA VEGAN FOOD AWARD in the category "Best Plant Drink 2022".
Learn more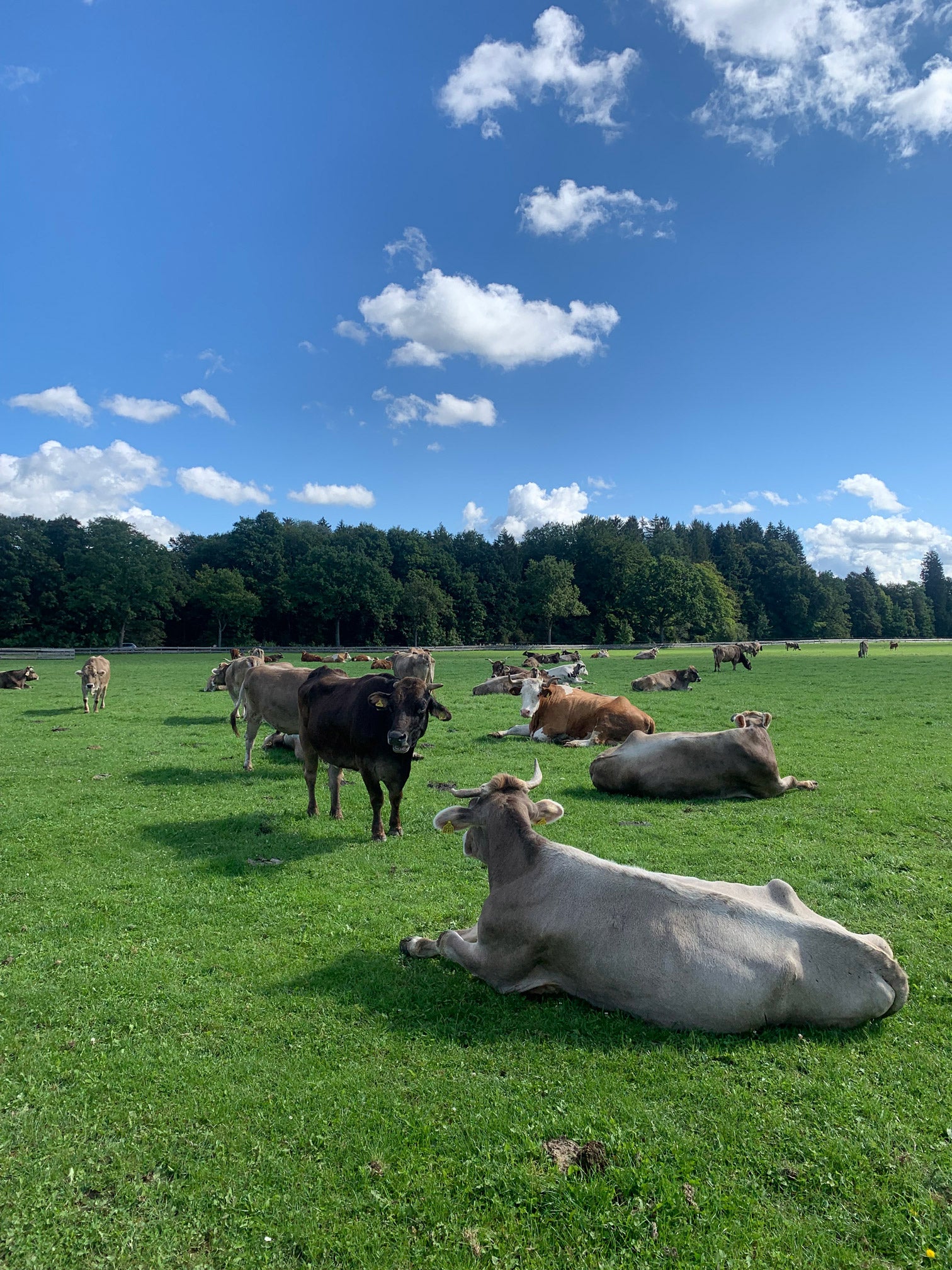 More about the cooperation
"Big things start small" is our credo at the farm. Our products help you not only to give animals a better life, but also to live a more sustainable life without sacrificing taste or comfort.
Learn more
Campaign FAQ
Why is the promotion only valid for Oat Base Bio?
Since we launched the campaign on the occasion of our PETA Vegan Food Award, the winning product - Oat Base Bio - will be the focus of the campaign.
How much is donated per cow sponsorship?
The contribution for a one-year cow sponsorship at Gut Aiderbichl is € 120. Blue Farm donates €1.20 per Oat Base Bio sold, so we have to sell a total of 100 products to enter into a sponsorship.
What does a cow sponsorship at Gut Aiderbichl look like?
Gut Aiderbichl not only gives the cows a wonderful home in nature, but also a loving community of animal caretakers who look after the cows according to their individual needs and experiences.
Why is the cow sponsorship limited to one year?
True to our credo "big things start small", we are starting with this campaign and want to support the sponsorships initially for one year. However, our goal is to work together with Gut Aiderbichl in the long term.
What happens after the one-year cow sponsorship?
Don't worry: Cows have found a forever home at Gut Aiderbichl and are allowed to stay there for the rest of their lives. However, like most home farms, the estate relies on donations. This enables them to give even more animals a free, dignified life.
Hello from the Farmily!
It's us: the blue farmers from Berlin. We develop purely plant-based products that are simply mega delicious and completely without additives. Not only are they totally practical, but they also have as little impact on our environment as possible.
More about us