Chagaccino
Need coffee but want to avoid the side effects of caffeine? Then you'll love the chocolatey, caffeine-free trend drink with natural superpower.
Vitamin C from acerola extract
with vital mushroom Chaga
with Maca and Fairtrade cocoa
Climate neutral delivery in 2-3 working days
Free shipping from 35€ in Germany
Product details, nutritional values and allergens
Product info
Food supplement with oat-based Chaga.
Content: 375g.
Gluten and lactose free. No added sugar.
Made in Germany.
DE-ÖKO-005
EU/non-EU agriculture.
Expiration 
Chagaccino: Shelf life approx. 6 months when opened - according to the best-before date. (dry storage and below 21 degrees).
Stirred oat drink:Up to five days (refrigerated).
Ingredients

74.8% oats* (fermented), cocoa powder*, inulin*, 4.2% maca*, hazelnut flour*, acerola extract*, cinnamon*, thickener: guar gum*, 0.7 % chaga extract*.
*From controlled organic cultivation
Nutritional information
Data per 12 g powder / 100 ml oat drink
Calorific value 190 kJ / 45 kcal
Fat 0.7 g
of which saturated fatty acids 0.2 g
monounsaturated fatty acids 0,3 g
polyunsaturated fatty acids 0.3 g
carbohydrates 8.7 g
of which sugar 2.2 g
fiber 1.2 g
protein 0.9 g
salt 0.03 g

Data per 36 g / 300 ml Daily portion
Organic Chaga Extract 240 mg (**)*
Organic Acerola Extract 450 mg (**)*
thereof Vitamin C 77 mg (96%)*
*of the nutrient reference values for an average adult human (8400 kJ/ 2000 kcal)
**no recommendation available
Allergens
Contains nuts. May contain traces of milk. But don't worry, that still means our product is and always will be completely vegan. Here we explain everything.
Note
Do not exceed the recommended daily intake. Food supplements are not a substitute for a balanced and varied diet. The product should be stored out of the reach of children.
Since there are insufficient studies on the safety of the use of vital mushrooms during pregnancy and lactation, use during this period and consumption by infants is not recommended.
Material

Our packaging is made of monoplastic and is therefore 100% recyclable. Above all, it saves lots of beverage cartons. We are always looking for new and better ways to reduce our environmental footprint. So if you have any suggestions, feel free to let us know!
For one serving of Oat Latte (200 ml), simply mix 2 heaping tablespoons (12 g each) of Oat Base with 200 ml of water. For more oat drink, simply mix a larger amount of base with the corresponding amount of water.
You can also prepare the Oat Lattes directly in the foamer: Simply fill with water, add the appropriate amount of base and the delicious creamy oat latte is ready. The Oat Lattes foam best when you use cold water with an electric frother.
In summer, your Oat Latte tastes but also cold on ice just great!
This product receives at least one adaptogen. You can find more information here.
In addition to Chaga mushroom, our Chagaccino also contains the root tuber Maca, which can boost energy and mood, and Acerola berry, which is full of vitamin C and can thus contribute to a strong immune system - perfect for your start into the day or for taking a deep breath and recharging your batteries.
Find out more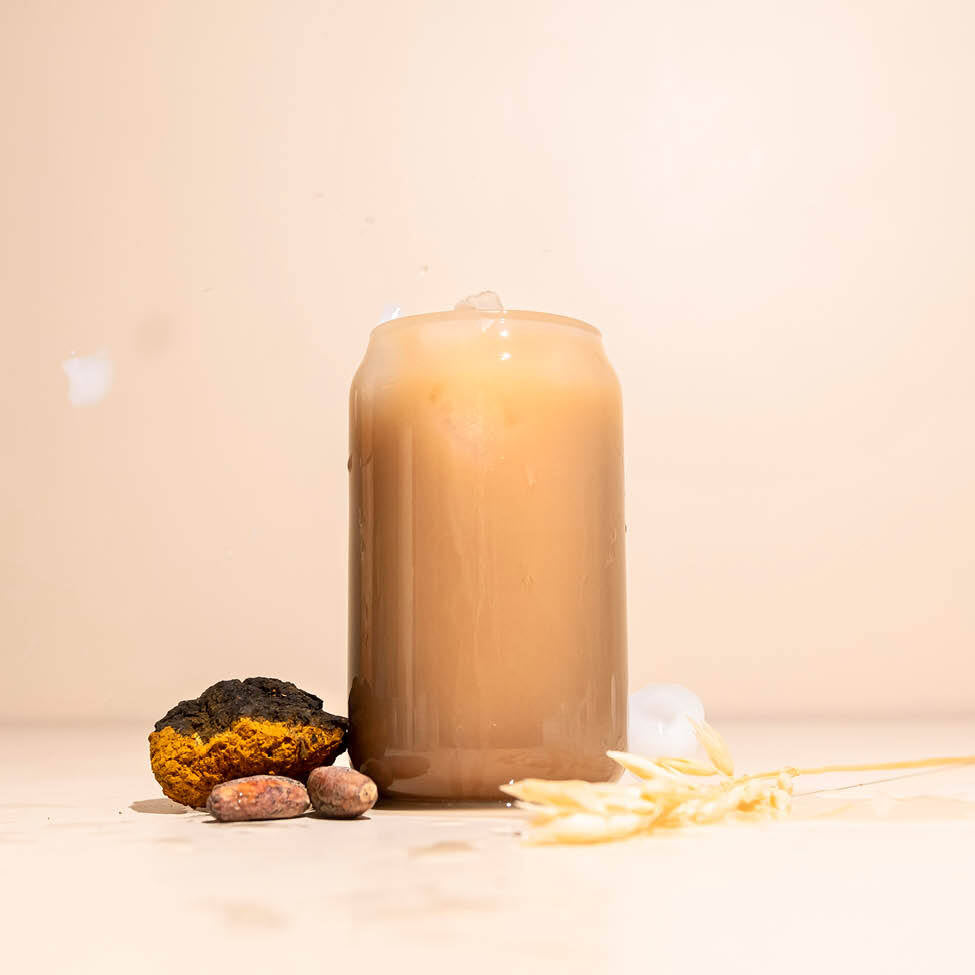 Chaga-what?!
Chaga is a vital mushroom and the food with the most antioxidants in the world. It has been valued for centuries in traditional medicine, where it is said to have an invigorating, balancing effect. As a result, it has already established itself in L.A. as a trendy drink and a caffeine-free alternative to coffee.
More about adaptogens
Tastes like:
Tastes thanks to cocoa and cinnamon slightly chocolaty, deliciously spicy and is rounded off by a gentle nutty note. In addition, the oat base gives the Chagaccino the usual creaminess and natural sweetness. And all this without any caffeine at all. It doesn't get any better than that.
Your questions, our answers
How do I prepare the Chagaccino?
Just like our Oat Bases, you simply add hot or cold water directly to the mix, shake or stir, and your Chagaccino is ready - you've never made a cappuccino this fast.
Does the Chagaccino contain additional sugar?
No. While oats naturally contain sugar that is broken down from the starch during fermentation, Chagaccino contains no extra added sugar, no artificial additives, no oil and no preservatives.
What is Chaga?
The Chaga is a vital mushroom, which is considered particularly valuable in its effect. It is also called the "king of the vital mushrooms". It is particularly rich in antioxidants, which is why it is said to have an invigorating and at the same time balancing, beneficial effect.
Is the Chagaccino vegan?
It is 100% vegetable, gluten-free and organic quality.
Where do you get the cocoa powder?
The Fairtrade certified cocoa powder comes, as already in our Oat Base cocoa, from Suyana. From cultivation, harvesting & processing to trade, sales, packaging & transport and consumption, Suyana stands for sustainability and transparency.
Do I need to add vegetable milk to the chagaccino?
No. The oat-based Chagaccino is an all-in-one drink and only needs a little water to become a deliciously creamy "latte."
Get your kitchen dirty,
not the planet.
View all