Forever Bottle
Goodbye milk cartons! The Forever Bottle is a reusable glass bottle that lets you keep your oatmeal drinks delicious and fresh.
Climate neutral delivery in 2-3 working days
Free shipping from 35€ in Germany
Product details and material
Product info
Holds up to 500 ml. For less food waste. Produced in Germany.
Durability
Forever
Material
The bottle is made of glass (with filling lines for application recommendation / portioning recommendation), the lid and cap are made of recyclable monoplastic (dishwasher safe). The lid has internal fins that favor the mixing of powder and water when shaken. It has a large opening on the jar for filling the powder and water, and a small opening (cap) for pouring.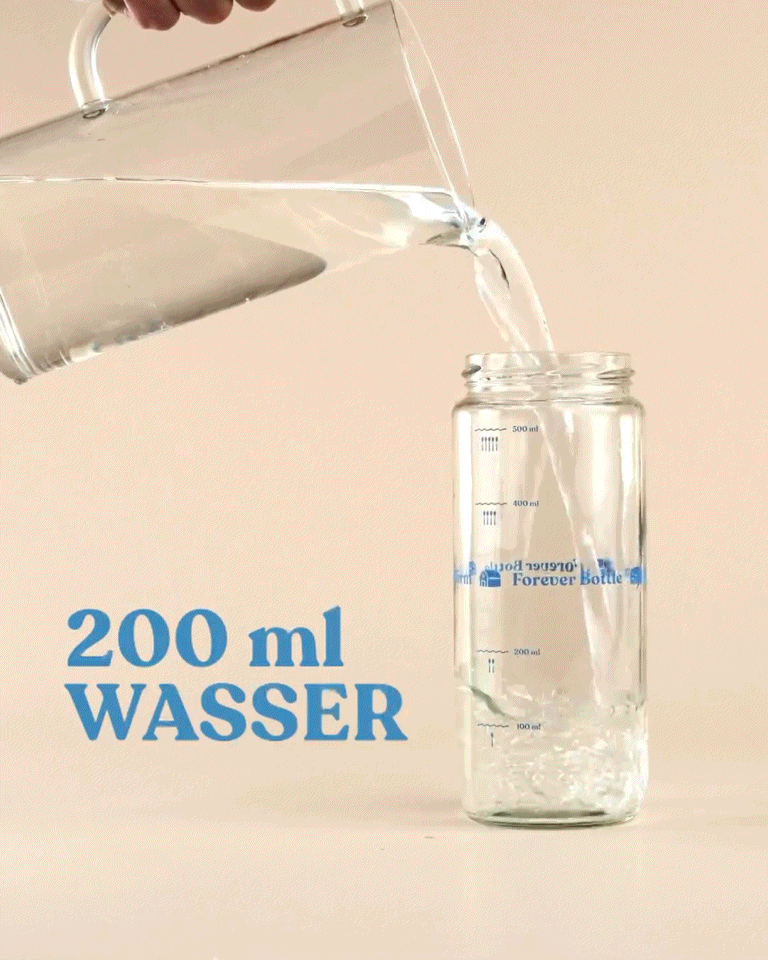 The Forever Bottle:
"Bye-bye milk cartons! With the Forever Bottle, I now simply shake my favorite oat drinks myself. Fresh, deliciously creamy and sustainable."
Your questions, our answers
Where does the Forever Bottle come from?
The Forever Bottle comes 100% from DE and consists of 3 components: A 0.5 l glass body, and two linked monoplastic lids (necessary for dishwasher resistance).
What makes the Forever Bottle special?
The reusable glass bottle has 5 measuring lines (from 100-500 ml) incl. spoon dosing aid. The large opening of the main lid is the connection between the glass body and the lid. Through it you can easily pour water and powder into the bottle. After shaking, you can skillfully pour your fresh oat drink from the small lid.
Does the Forever Bottle keep tight?
An injection-molded sealing ring on the lid ensures optimum grip when shaking.
Does the Oat Base mix well with the water?
Yes, in addition, internal fins on the lid promote mixing of powder and water during shaking.
Get your kitchen dirty,
not the planet.
View all