Calcium Bio Starter Kit
With this 3-piece concept of mixing bottle, dosing spoon and Calcium Oat Base, you can now mix your own oat drink with natural calcium - fresh, creamy & delicious.
Calcium from natural sources for strong bones & muscles
never lug milk cartons again
always fresh oat drinks at hand
Climate neutral delivery in 2-3 working days
Free shipping from 35€ in Germany
Product details, nutritional values and allergens
Product Info
Oat drink powder with calcium carbonate. 400 g / 800 g. Equivalent to up to 4 / 8 liters of oat drink with added calcium. Gluten and lactose free, no added sugar or additives.
Made in Germany.
Forever Bottle: Holds up to 500ml of oat drink. For less food waste. Produced in Germany.
Forever Spoon: Measures exactly 10 grams for 100ml of oat drink when smoothly spread.

Shelf life
OatBase: Can be kept for several months when opened - according to the best-before date (dry storage and below 25 degrees).
Stirred Oat Drink: Up to five days (refrigerated).
Forever Bottle: Forever
Forever Spoon: Lasts forever and is made from 100% renewable raw materials.
Ingredients
98% oats* (fermented), calcium carbonate
*From controlled organic cultivation
Nutritional information
Data per 20 g powder / 200 ml oat drink with added calcium
Calorific value 337 kJ / 80 kcal
Fat 1.2 g
of which saturated fatty acids 0.3 g
monounsaturated fatty acids 0.5 g
polyunsaturated fatty acids 0,5 g
Carbohydrates 15.8 g
of which sugars 4.1 g
Dietary fiber 0.4 g
Protein 1.2 g
Salt 0.06 g
Sodium 0.02 g
Calcium 160 mg (20%)*
*of the nutrient reference values
Allergens
May contain traces of milk and mustard. But don't worry, that still means our product is and always will be completely vegan. We explain everything here.
Material
Oat Base: Our current packaging is made of monoplastic, making it 100% recyclable. Most importantly, it saves lots of beverage cartons. We are always looking for new and better ways to reduce our carbon footprint. So if you have any suggestions, feel free to let us know!

Forever Bottle: The bottle is made of glass, the lid and cap are made of recyclable monoplastic (dishwasher safe). The lid has internal fins that favor the mixing of powder and water when shaken. It has a large opening on the glass for filling the powder and water, and a small opening (cap) for pouring.
Forever Spoon: The spoonis made of 100% renewable raw materials (bio-based plastic + wood flour = biocomposite). Its filling quantity is 10g spread, 12g heaped and it has a cool clip-on function (split handle).
With our oat drink powder you can easily mix your own fresh oat drink at home: 2 spoons of oat powder + 200ml water, stir and you're done!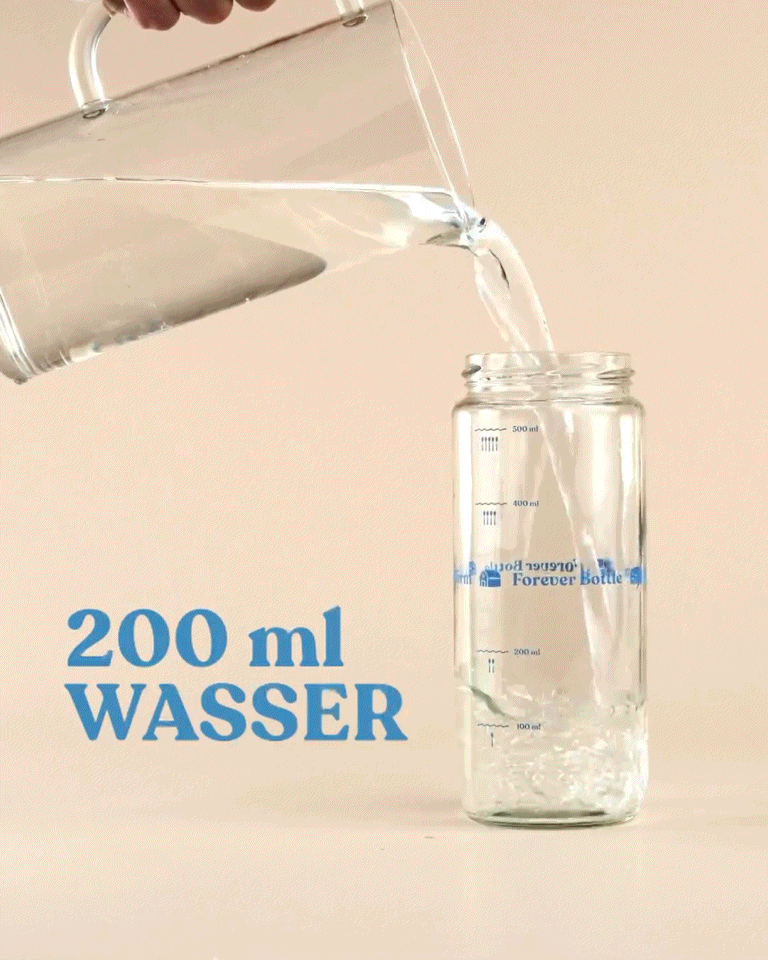 "Calcium intake can be an overwhelming topic with discerning myths and facts. - So easy it can be to mix that extra dose of calcium into your cereal or porridge in the morning, packaged as an oat drink that's slightly sweet and delicious."
Your questions, our answers
What is the Forever Spoon made of?
It comes 100% from DE and is made from 100% natural and renewable raw materials (waste products from agriculture). We want to move away from petroleum-based plastic to a bio-composite made from bio-based plastic and wood flour.
Where does the Forever Bottle come from?
The Forever Bottle comes 100% from DE and consists of 3 components: 2 interlinked monoplastic lids (necessary for dishwasher resistance) and a 0.5 l glass body.
What makes the Forever Bottle special?
The reusable glass bottle has 5 measuring lines (from 100-500 ml) including dosing aid. The large opening of the main lid is the connection between the glass body and the decekl and helps to dose the powder, while the small lid is a pouring aid.
Why does Calcium Oat Base contain red algae powder?
According to EU regulations, additives such as pure calcium carbonate are not allowed in organic foods. In order to still be able to offer you a full range of organic products and the extra portion of calcium, we have switched to a natural calcium source. Red algae contain particularly high levels of calcium.
Can you taste the red algae powder in the Calcium Oat Base?
Don't worry, the Calcium Oat Base tastes neither fishy nor algaey, but slightly sweet and mild, as you are used to from our Organic Oat Base.
How is Calcium Oat Base made?
In the production of Oat Base, the oats are treated enzymatically so that they get the light sweetness and delicious creaminess when dissolved in water. This also allows us to do without binders & Co, which many, already ready oat drink products contain. The Oat Base is then mixed with red algae powder to enrich it with calcium.
Can I also foam the Calcium Oat Base? 
Our Oat Base Calcium can be foamed particularly well directly in the foamer. Please note that this is not yet a barista version. If you are looking for the perfect foam for your coffee, then try our Barista Oat Base.
Is Calcium Oat Base comparable to a homemade oat drink?
Our Calcium Oat Base is not one-to-one comparable with homemade oat drink. We use gluten-free oats and treat them with natural enzymes. This results in a natural sweetness and a creamy oat drink that dissolves well, neither becomes slimy nor flakes in the coffee.
Is Calcium Oat Base gluten-free?
Ja, alle unsere Produkte sind glutenfrei gemäß der Verordnung (EG) Nr. 41/2009. Das bedeutet, dass der Glutengehalt unter den gesetzlich vorgegebenen <20 ppm liegt und ist damit als glutenfrei deklariert.
Get your kitchen dirty,
not the planet.
View all