Golden Oat Latte Organic
This creamy latte is guaranteed to put you in a golden mood! With ginger, turmeric and Ashwaghanda you are well prepared for the colder weather.
with Adaptogen Ashwaghanda
vegetable, organic and without added sugar
Climate neutral delivery in 2 - 3 working days
Free shipping from 35€ in Germany
Product details, nutritional values and allergens
Product info
Organic oat drink powder with turmeric spice blend and ashwaghandha.
Content: 300g.
Gluten and lactose free. Without added sugar.
Made in Germany.
DE-ÖKO-005
Shelf life
Golden Oat Latte: Can be kept for several months if opened - according to the best-before date (dry storage and below 25 degrees).
Stirred oat drink:Up to five days (refrigerated).
Ingredients
85% Oats* (fermented), Inulin*, 3% turmeric*, cinnamon*, ginger*, 1.25% ashwagandha powder*, thickener: guar gum*, mace*, cardamom*, pepper*.
*From controlled organic cultivation
Nutritional information
Data per 12 g powder / 100 ml oat drink
Calorific value 195 kJ / 46 kcal
Fat 0,7 g
thereof saturated fatty acids 0,2 g
monounsaturated fatty acids 0.2 g
polyunsaturated fatty acids 0,3 g
Carbohydrates 9,6 g
thereof sugar 2,7 g
Dietary fiber 1,0 g
Protein 0,7 g
Salt 0,03 g
Sodium 0,01 g
Note
This product contains the adaptogen Ashwaghanda. Since there is insufficient research on the safety of adaptogen use during pregnancy and lactation, use during this time and consumption by infants is not recommended.
Allergens
May contain traces of milk due to production. But don't worry, that still means our product is and always will be completely vegan. Here we explain everything.
Material
Since our Oat Base is an enzymatically treated food, we need a packaging with the high barrier properties. Our current packaging is made of monoplastic, which makes it 100% recyclable. Most importantly, it saves lots of beverage cartons. We are always looking for new and better ways to reduce our environmental footprint. So if you have any suggestions, feel free to let us know!
For one serving of Oat Latte (200 ml), simply mix 2 heaping tablespoons (12 g each) of Oat Base with 200 ml of water. For more oat drink, simply mix a larger amount of base with the corresponding amount of water.
You can also prepare the Oat Lattes directly in the foamer: Simply fill with water, add the appropriate amount of base and the delicious creamy oat latte is ready. The Oat Lattes foam best when you use cold water with an electric frother.
In summer, your Oat Latte tastes but also cold on ice just great!
This product contains at least one adaptogen. You can find more information here.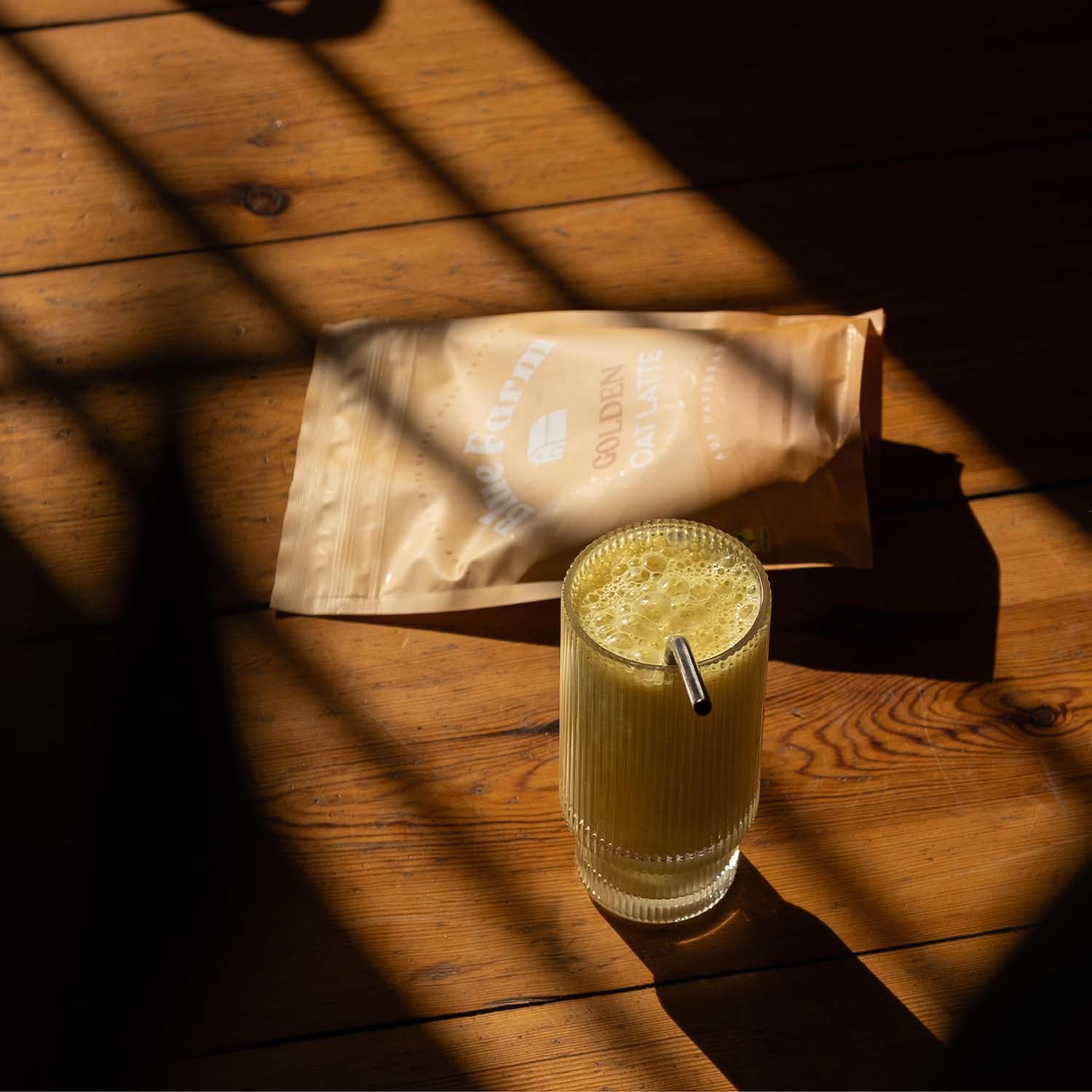 The Golden Oat Latte:
Immune boost turmeric
Whether early in the morning or cozy in the evening, turmeric and ginger give your taste buds a kick and contain vitamin C, which supports your immune system.
Your Anti-Stress Hack
Enhanced with the adaptogen Ashwaghanda, which can reduce stress, this creamy drink can recharge your batteries sip by sip.
100% natural, plant and organic
Enjoyment with a clear conscience: Thanks to high-quality organic ingredients, our latte tastes deliciously fresh and creamy even without artificial additives, flavors or added sugar!
Your questions, our answers
How do I prepare the Golden Oat Latte?
Just like our Oat Bases, you simply add hot or cold water directly to the mix, shake or stir.
Can I also foam the Golden Oat Latte?
If you have an electric frother, our oat lattes are particularly easy to froth directly in the frother. It is best to use cold water, so that the Golden Oat Latte is heated during foaming.
Of course, if you are using a hand foamer without a reheat function, use water according to your desired drinking temperature.
Do the Oat Lattes also taste good cold?
Absolutely! You can drink it either hot or cold. Shhh... Add a few ice cubes and you have the perfect summer refreshment!
What's special about Blue Farm Oat Lattes?
Our Golden Oat Latte is completely plant-based, organic, free of added sugar and artificial additives. It is also enriched with the adaptogen Ashwaghanda, which in Chinese medicine is said to have stress-reducing, calming effects on the body.
Do the Oat Lattes contain sugar?
We don't add sugar to our Golden Oat Latte - thanks to the natural sweetness of the oats in our Organic Oat Base, it also tastes so deliciously creamy and fresh.
Are the Oat Lattes gluten-free?
Die Oat Lattes sind glutenfrei gemäß der Verordnung (EG) Nr. 41/2009. Das bedeutet, dass der Glutengehalt unter den gesetzlich vorgegebenen <20 ppm liegt und ist damit als glutenfrei deklariert.
Why are the packages of the Oat Lattes made of plastic?
Our Oat Base is an enzymatically treated food product that requires packaging with a particularly high barrier property, thus ensuring the shelf life of the product. We use only monoplastic, which allows our packaging to be 100% recycled.
Make your kitchen dirty, not the planet.
View all