Moccaccino
Hot or iced - the creamy oat base with chocolaty cocoa and delicious Speciality coffee will have you instantly floating on mocha cloud 7.
Speciality Instant Coffee from BLÆK
Fairtrade certified cocoa powder
vegetable, organic & without artificial additives
Climate neutral delivery in 2-3 working days
Free shipping from 35€ in Germany
Product details, nutritional values and allergens
Product info
Organic oat drink powder with coffee and cocoa. 375 g.
Organic, vegan and gluten-free. No added sugar or oil. Made in Germany.

DE-ÖKO-005
Expiration 
Oat Base: Shelf life approx. 12 months when opened - according to the best-before date. (dry storage and below 21 degrees).
Stirred mochaccino: Up to five days (refrigerated).
Ingredients
71.7% oats* (fermented), cocoa powder*, 10% Specialty Instant Coffee*, Inulin*, thickening agent: guar gum*.

*From controlled organic cultivation
Nutritional information
Data per 12 g powder / 100 ml oat drink
Calorific value 178 kJ / 42 kcal
fat 0,7 g
thereof saturated fatty acids 0,2 g
monounsaturated fatty acids 0.3 g
polyunsaturated fatty acids 0.2 g
Carbohydrates 8.0 g
thereof sugar 2,0 g
Dietary fiber 1.8 g
Protein 0,9 g
Salt 0,03 g
Sodium 0.01 g
Allergens
May contain traces of milk due to production. But don't worry, that still means our product is and always will be completely vegan. Here we explain everything.
Material
Our current packaging is 100% recyclable. Most importantly, it saves lots of beverage cartons. 
For one serving of Oat Latte (200 ml), simply mix 2 heaping tablespoons (12 g each) of Oat Base with 200 ml of water. For more oat drink, simply mix a larger amount of base with the corresponding amount of water.
You can also prepare the Oat Lattes directly in the foamer: Simply fill with water, add the appropriate amount of base and the delicious creamy oat latte is ready. The Oat Lattes foam best when you use cold water with an electric frother.
In summer, your Oat Latte tastes but also cold on ice just great!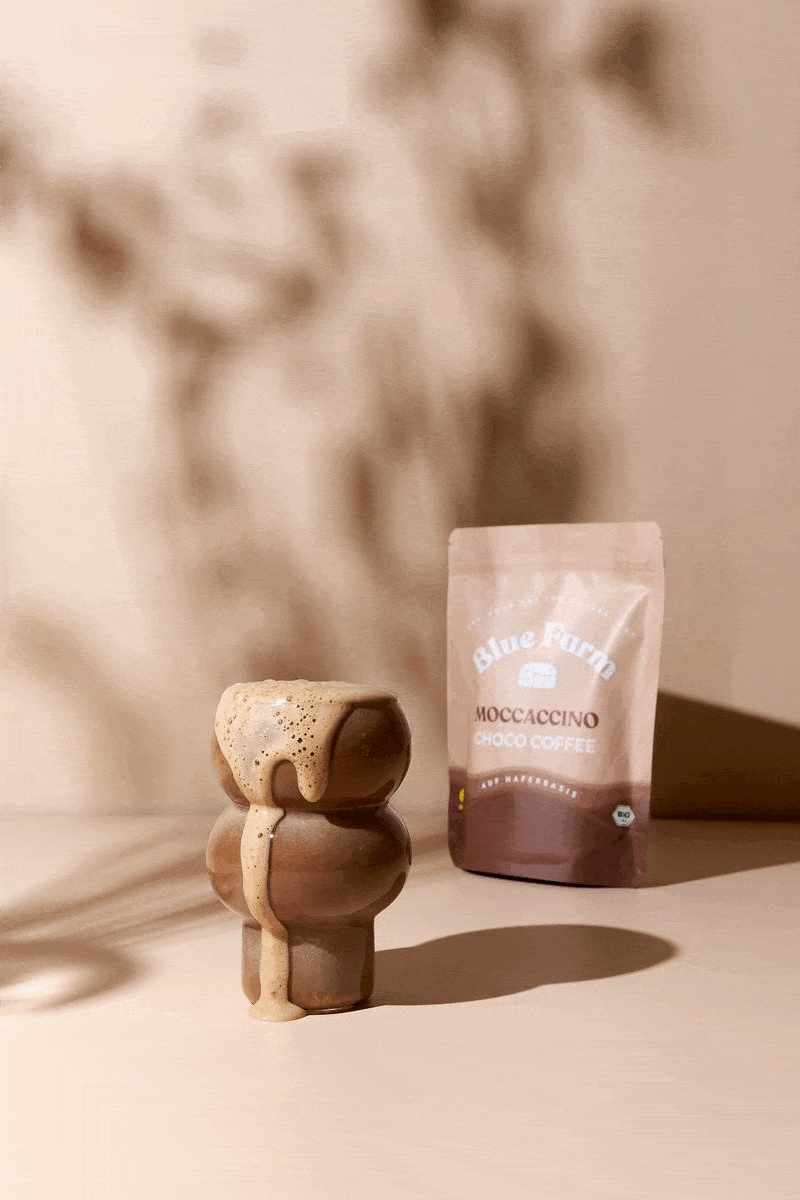 Tastes like:
"The all-in-one drink combines the naturally creamy and light sweetness of Oat Base Organic with chocolaty cocoa and a bold Arabica blend that tastes of cocoa, nutmeg and dates."
Your questions, our answers
How do I prepare the mochaccino?
Just like our Oat Bases, you simply add hot or cold water directly to the mix, shake or stir, and your all-in-one mochaccino is ready. In summer, it's especially good served as an iced mochaccino with crushed ice.
Does the mochaccino contain additional sugar?
No. While oats naturally have sugar, the Moccaccino contains no extra added sugar, no artificial additives, no oil and no preservatives.
What kind of coffee do you use?
We source the coffee from BLÆK, who use highland Arabica beans for the Speciality Instant Coffee and extract them gently at low temperature. The essence of the coffee is flash frozen and all water is removed from it. This creates the water-soluble coffee powder, certified organic and Fairtrade, that we have chosen for our delicious Moccaccino. 
Is the mochaccino vegan?
It is 100% vegetable, gluten-free and organic quality.
Where do you get the cocoa powder?
The Fairtrade certified cocoa powder comes, as already in our Oat Base cocoa, from Suyana. From cultivation, harvesting & processing to trade, sales, packaging & transport and consumption, Suyana stands for sustainability and transparency.
Do I need to add vegetable milk to the mochaccino?
No. The oat-based Moccaccino is an all-in-one drink and only needs a little water to become a deliciously creamy latte.
Get your kitchen dirty,
not the planet.
View all